Infinite Possibilities Knowledge
Developed by Deepak Chopra, M.D. And David Simon, M.D.
At The Chopra Center for Well Being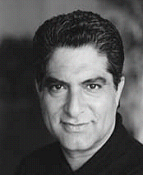 Perfect Health
The Five Lesson workshop for:
Physical, Mental and Spiritual Well Being
Deepak Chopra, MD Mimi Moyer, MS
Workshop taught in Northern Virginia by
Perfect Health Educator
Mimi Moyer
Contact: (703) 250-5471
Information Request Form Below
¯Restore Vitality and balance for greater personal potential
¯Access your inner resources for learning, growing and healing
¯Awaken your body's healing power to overcome stress and illness
¯Integrate ancient wisdom and scientific discoveries for self-transformation
A Complete Mind Body approach for creating Perfect Health
Health is defined as the optimal integration between environment, body, mind and spirit.
This course provides the tools to enhance your physical and emotional well being through your conscious choices
Lesson One
Explore the reality that lies beyond your current beliefs about health and well being. Develop an understanding of your unique body type. Learn one of the most powerful, widely proven techniques to reduce stress and fatigue and increase mental clarity.
Identify which foods create optimal energy and health. How you eat is as important as what you eat. Honor your body's internal signals and use the best sources of nourishments to restore balance, improve digestion and transform unwanted habit
Lesson Three
Learn Techniques for perpetual renewal. Adopting a regular routine helps us to be in synchrony with our environment creating greater energy, happiness and wellbeing
Enliven your senses by identifying which sounds, tastes, aromas and colors can balance and heal. Life is an interplay between the environment and ourselves. Our senses are the gateways through which we experience the world. Use your heart as well as your mind to make insightful choices and accurate life decisions. Sharpen your intuition and inner wisdom. Examine the layers that make up your human experience. Experience an emotional cleansing process to release accumulated toxins.
Lesson Five
Understand how the cycles of nature influence your physical and emotional well being. Eliminate toxins from your life through timely nutrition, exercise and meditation. Perform a daily self-massage to release healing chemicals into your physiology. Learn to listen to your body in order to achieve optimal health.
Come learn more about the Mind Body connection and how to apply these principals in your own life!
¯Learn how the mind and body are one.
¯Discover the unlimited potential of the mind in the healing process.
¯Reduce stress by responding positively rather than reacting mindlessly.
¯Bring greater clarity to everything you do.
¯Reduce or overcome addictive or self-destructive behavior.